Windsor Motor Group, Ireland's largest motor dealer group, is delighted to welcome Irish boxing legend, Katie Taylor as a Windsor Motor Group Ambassador. Katie, Olympic Gold Medallist, five-times World Boxing Champion and six-times European Champion, not to mention local and national hero, recently took delivery of her all-new 171 Nissan X-Trail.
Commenting on the partnership, Peter Nicholson, Managing Director, Windsor Motor Group said: "We're very proud to welcome Katie Taylor, to the Windsor Motor Group Ambassador family. Katie embodies everything the X-Trail has to offer – powerful, packs a punch when it comes to the competition and just like Katie, the X-Trail manoeuvres beautifully. "She's a remarkable and inspirational lady, who is passionate, driven, and determined and clearly has her sights set on one goal – to be the best – these are attributes Windsor Motor Group mirrors."
Sculpted for style, space and efficiency, the X-Trail is packed with class-leading technology and remarkable safety features. With its stunning features, its exterior aerodynamics that whisper through the wind, advanced engines and virtually gearless Xtronic transmission that maximises efficiency and performance. With the X-Trail's All-Mode 4×4-i, you've got a system that's capable on-road and off. Auto Mode constantly monitors conditions and adjusts the balance of power between front and rear wheels for best traction. Powering the all-new X-Trail is an advanced 1.6-litre diesel engine, tuned to provide the performance of larger diesel powertrains, while offering enhanced fuel economy and lower CO2 emissions. The engine also features Nissan's automatic Start/Stop system, which shuts down the engine when it's not needed, to save fuel, then smoothly and quickly restarts as you pull away.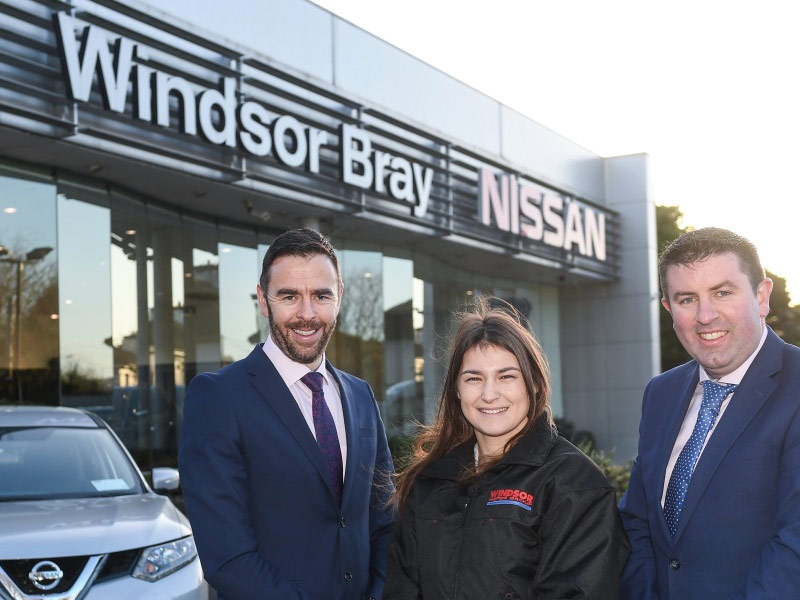 "I can see why people fall in love with the X-Trail – it's a beautiful car and drives like a dream", said Katie Taylor. "The X-Trail is the perfect car for me, it's comfortable, has tons of space, which is great for all my training gear and is really economical. "
Katie is driving the all-new Nissan X-Trail XE, with gravity inspired double-stitched leather trim seats with spinal support and LED interior lighting. The X-Trial also features NissanConnect, which is packed with a range of features, and is incredibly easy to use thanks to the high resolution 7″ anti-glare touchscreen. With a powerful combination of audio, navigation and communications functions, as well as cutting edge connectivity and smartphone integration features, all of which will keep Katie's world within reach. The X-Trail also features INTELLIGENT DRIVER ASSISTANCE and navigation functions, supporting Katie in all kinds of traffic situations.
Peter Nicholson added "The entire Windsor Motor Group team is looking forward to working with Katie and exploring the synergies between us."